We love training horses and riders to become better at what they do. Maybe even reach goals you've never expected to achieve. What better way then giving clinics to reach the enthusiastic and driven dressage riders we all are. It's all about communication from the rider to the horse and visa versa. The understanding and refinement of this communication makes us riders and trainers excel and brings out the best in us and our horses.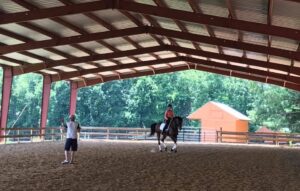 If you would love us to help out, maybe arranging a clinic at your barn is a possibility!!!
The average clinic will be about 8 lessons of 45 minutes a day. Of course we can discuss more days or 60 minutes lessons or other varieties.
You can use the contact form or email if you want to have more information about or schedule a clinic.