Hello,
We are Jaron Verheij and Ivo Jührend and we are from the top dressage country The Netherlands.
As a lot of people we were fascinated by the beauty of horses from child's age on. The fascination changed into passion. This passion got so far that after growing up with horses we both wanted to make our profession out of it. After getting our high school degree we went to 'The' Dutch Equestrian School in Deurne (Jaron started in 1993 and Ivo 1995). That's where we've met each other and where the spark ignited that led us to our marriage. The 4 year education brought us a lot of knowledge especially due to many different barns with a variety of disciplines we attended as working students (Jeanette van Mill, David Hopper, Janny Morsink, Rien (former National Dutch Dressage team coach) & Inge van der Schaft, Ton Monhemius).
After the 4 year education in Deurne we both graduated and started our own business Stal 't Hooiland (translation: Hayland Stables) in 1998. We started with 6 stalls, an outdoor arena and a few students but after only two years we expanded our business and moved to another location where we based till August 2018.
.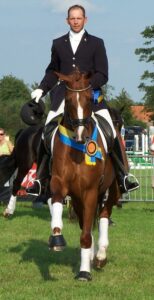 With 45 stalls, an indoor arena and olympic size outdoor arena we could really put our energy to the fullest into our passion.
Training each about 10 horses a day
Taking care of the boarding horses and clients
Teaching a lot of lessons
Competing at National and International shows from Training level to Grand Prix (with many different horses, almost every weekend)
Selling horses nationally and internationally
Finding the perfect horses for clients
Breeding horses
Also Training with the famous Anky van Grunsven and former FEI judge Jan Peters helped us to become the trainers -"horse people"- we are now.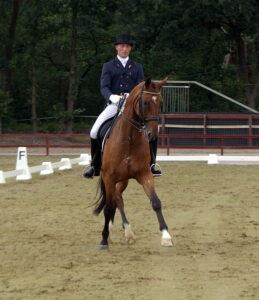 All this hard work and experience led to a good dressage career which we are very proud of!!! Many ribbons ornamented our horses bridles in all classes. Way to much to mention all but which includes:
a National Championship gold medal in 1.10m (3,28ft) jumping
a National Championship silver medal in Z1 (3rd level) dressage
two National Championship bronze medals in ZZ-zwaar ( 4th level) dressage and M1 (2nd level) dressage
a 4th place Z1 (3rd level) dressage and 6th place M1 (2nd level) dressage at the National Championships
4 Regional Championship gold medals in: M1 (2nd level) dressage, M2 (2nd level) dressage, Z1 (3rd level) dressage and 1.10m (3,28ft) jumping
3 Regional Championship silver medals in: L2 (1st level) dressage, M1 (2nd level) dressage and M2 (2nd level) dressage
a Regional Championships bronze medal at Z1 (3rd level) dressage
9 times County Championships gold medal winner at L2 till Z2 dressage (1st, 2nd and 3rd level)
competing at prestigious dutch horse shows like:
Outdoor Gelderland- Prix St Georges and Intermediate 1 3rd place
Zwolle International- Z2 freestyle (3rd level) 1st place
Hippisch Hengelo- Z2 freestyle (3rd level) 1st place and ZZ-zwaar (4th level)
CDI-W 's Hertogenbosch Future Test (Grand Prix level) 6th place
CHIO Rotterdam Future Test (Grand Prix level) 7th place
We both passed our judging test and are now licensed KNHS (the Dutch version of USEF) judges. It's a lot of fun to do and a way to reach more dressage riders to help them become better in dressage.
We are constantly trying to evolve ourselves and expand our horizons. That's why we have sold our Dutch farm in 2018 and set up a new business in The USA. Located in Dunnellon Florida, Dutch Dressage Inc. has become a fact….
Maybe we'll meet oneday!!!